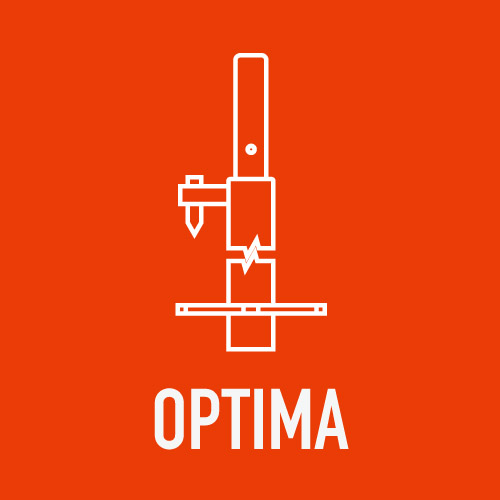 OPTIMA
THE ORIGINAL MJ OPTIMA PRINCIPLE
The
MJ OPTIMA
scaffolding system is designed as a facade scaffolding system. The advantages from the tried and tested frame system are taken up and combined with the
advantages of a modular designed scaffolding system. In addition, the requirements of a leading railing are met with system-integrated components.
Meaningful and well thought out System-free accessories complete the
MJ OPTIMA
principle.
By investing in the
MJ OPTIMA
system, you are optimally aligning your scaffold company with the future requirements of the construction industry and occupational health and
safety legislation.
The MJ OPTIMA system uses new types of vertical standards and deck ledgers.
Tried and tested scaffold decks, diagonals, accessories and many side protection parts can still be used. The proven and internalized assembly activities are not significantly influenced.
The use of the known perforated disc as a modular scaffolding node also makes it possible to use round tube decks and other modular scaffold components.
The connection with the modular scaffold system allows previously unknown degrees of freedom in the execution of unusual scaffolding.
By installing decking ledgers, optionally with two or three piles in width, the use and provision of vertical frames of different widths is no longer necessary.
Well thought-out details, such as the scaffolding corner with only three scaffolding standards, complete the superior efficiency of the system.

THE ESSENTIAL BENEFITS OF THE SYSTEM IN OVERVIEW
Transport, storage and movement of the components on the construction site are considerably simplified.
The lower component weights in connection with the higher safety against falling lead to a far reduced body stress strain and thus to a higher hourly output on the construction site
The integrated leading railing frees you from the obligation to use personal protective equipment (PPE) in most situations.
Newly developed
tube connector

The strong MJ OPTIMA tube connector, specially developed for the requirements of a facade scaffold, with its extraordinary resistance to loads, brings that System to the same high level of performance as the frame scaffold and beyond.
The OPTIMA-Principles:
Principle 1: Optimally secured.
The leading guardrail during scaffold assembly protects employees from falling. This is how you easily meet modern occupational safety requirements.
Principle 2: Optimally transported.
Low space requirement for transport and storage.
Principle 3: Optimally invested.
No complete new purchase. Smooth transition according to possibility and need.
We think OPTIMA is optimal!