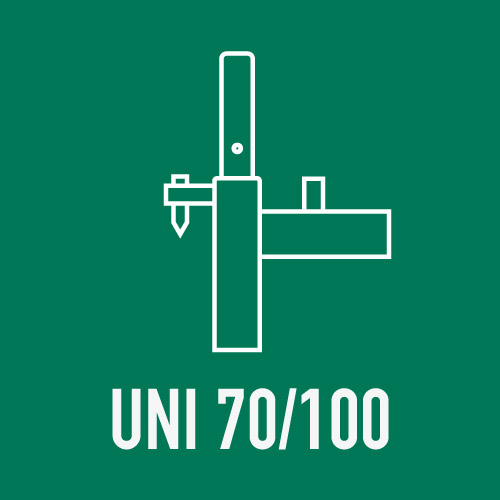 UNI 70/100
SIMPLY – FAST – SAFE
The facade scaffold
UNI
is generally approved by the German Institute for Construction Technology in Berlin under the approval numbers Z-8.1-184 (UNI 70) and Z-8.1-871 (UNI 100).
The high quality of the system is based on the optimal ergonomic design, the durable material properties and the assembly logic that constructions error practically excludes.
Its essential identifying features are the round bolt connections and the swivel pins.
The individual scaffold bays are connected by decks which are placed on the round bolts of the vertical frames so that the system can be erected in virtually no time.
This also rules out the risk of the decks slipping. The swivel pins in the vertical frames are used to fasten guard rails and diagonal braces without the use of tools.
In its standard design, the UNI 70 scaffold system can be used as a scaffold system of scaffold group 3 according to DIN 4420-1:1990 and as guard and roof guard scaffold.
The UNI 100 scaffold system can be used, depending on bay width, for load classes 4 to 6 for scaffolding according to DIN EN 12811-1:2004.
The use of a roof guard is accounted for in the standard design.
With extensive and functionally aligned accessories, the system is able to achieve a degree of flexibility that also enables scaffolding for challenging objects.

THE ESSENTIAL BENEFITS OF THE SYSTEM IN OVERVIEW
Horizontal bracing with round bolt deck arresting
Short assembly times without the use of any additional tools due to modular structure
High safety features: decks are firmly locked to the vertical frames, inherent and vertical moving loads are discharged directly
by the decks lying on the vertical frames
Independent perpendicular adjustment through fixed knot connections: after initial alignment of the lowest levels,
the alignment of all further scaffold levels takes place automatically
Complete usability of the working width due to outside diagonal braces
Decks made of timber, steel and aluminum