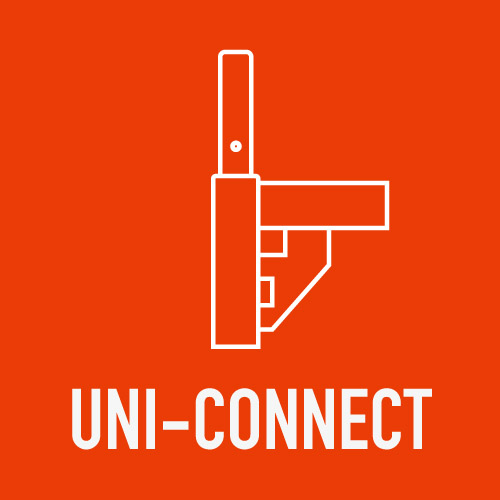 UNI-CONNECT
FAST – SAFE – VERSATILE
The wedge lock on the one hand and the U-profile upper cross truss of the vertical frame, in which the scaffold decks are easily hooked on the other hand, make the
UNI-CONNECT
system easy to use and fast to assembly and disassemble.
At the same time these are the essential security features of the system. Thus, the wedge, the connecting element between assembly frame, diagonals and guard rails, by its special inclination and surface texture, a secure and strong clamping action.
The decks are placed in the U-profiles with two or three claws, depending on the width, and ensure that dead load and traffic loads are safely discharged, this reinforces the whole system and results in a firm connection between the individual scaffold bays.
The UNI-CONNECT scaffold system can be used as a guard and roof guard scaffold, and the use of a protective roof is proven in the standard implementation.
Extensive and functionally coordinated accessory components provide the system with flexibility that makes it easy to install even with difficult tasks. UNI-CONNECT is available in both steel and aluminum versions.

THE ESSENTIAL BENEFITS OF THE SYSTEM IN OVERVIEW
Safe stand with positive and force fit wedge connections
Scaffold frame with U-profile for flexible mounting of scaffold decks
Facilitated partial degradation due to optimized claw geometry
Gen. approved by building inspection, also for common, manufacturer independent use.
For details, please refer to the approval modests: Z-8.1-872, Z-8.1-922, Z-8.1-935