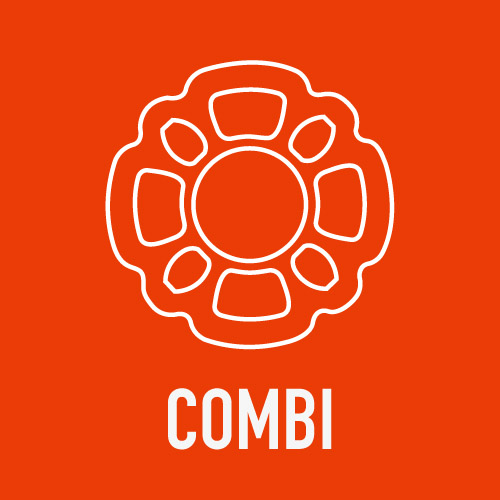 COMBI
FAST – STRONG – FLEXIBLE
With the modular scaffolding
COMBI
, we have developed a system that covers all requirements of constructive scaffolding.
COMBI
is based on the proven and flexible functionalityof the modular perforated disc.
For the construction of the knot design, we used the finite element method (FEM) in order to achieve stress-optimized lifting capacity and weight
reduction at the same time. In addition, this resulted in an optimized load application via the ledgers into the standards.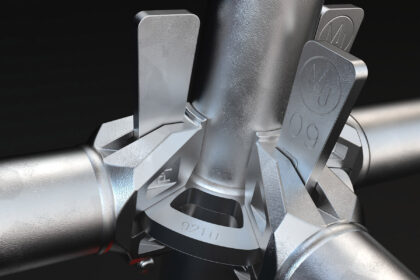 As a result, the COMBI convinces with its exceptional static values. With up to eight connections per knot – freely selectable in heights of 0.50 m intervals – the system offers the highest possible variability in constructing a modular scaffold. The small notches of the perforated disc are used to connect the ledgers and enforce a 90-degree angle, which is required for many forms of application.
In connection with the larger notches arranged in between, the system also offers variable assembly options for angles outside the 90-degree. The decisive benefit of the modular scaffold – apart from the freely definable angles of knots – is the option for individual selection of bay lengths, widths and level heights. This enables flexible adjustments to virtually any type of building or construction.



The advantages of COMBI
There are many reasons for choosing the COMBI modular scaffolding system: not least of these is its extensive range of series-manufactured components, for example, crossbars and
diagonals in more than 100 different lengths, as well as brackets in various widths – making the COMBI an 'allrounder' in its field.
The use of system base crossbars allows standard scaffolding decks of various facade scaffold systems to be integrated without any difficulty.